Adobe is Great !
---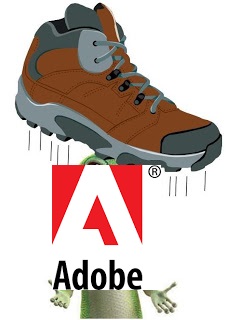 Ok Now That My Web Design Teacher Is Not Reading This. You Must...
Stop Adobe !
we must make it Adobe`s Closed !
why!
ADOBE WANTS ALL UR MONEY!!1 TEH CREATIVE CLOUD IS EVIL CLOUD Z0MG!!!
they hate teh piratez and want 2 kill dem! WOWZERS!!1
they r snooping as usual i c! WAT???
thats itz! STOP ADOBE!!! >=(
(written by Brian Henriksen)
Plans To Destroy The Adobes!
Say "THIS IS SPARTA!" To Adobe HQ And Kick To Obvillions
Zeeky Booky Doug
Chacrron Maccron (Uale Uale Uale)
Send Link To Aid The Faces Of Evil And Conquer Each (SQUADALLAH!)
Come On Fhqwhgads
WRRYYYYYYYYY Them To Dead! (From Stick Figures On Crack)
YES! YES! -M Bison
---
This site was made by Coach Z